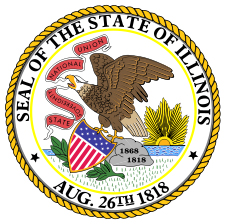 Lawmakers pushing to expand gambling in Illinois hope the third time is a charm with a more finely tuned proposal that could make Illinois the fourth state to allow Internet gaming.
The latest proposal includes some familiar ideas: five new casinos, including one in Chicago; thousands of slot machines, including at Chicago's two airports. But it also includes Internet gambling, which would allow Illinois residents to play games like black jack on their computers or smart phones.
The biggest obstacle to adding more casinos and slot machines in Illinois has been Gov. Pat Quinn, who's twice rejected proposals sent to his desk, citing a lack of ethical safeguards, regulation and oversight.
Lately, the Chicago Democrat has signaled that he's open to the idea, even mentioning it in his March budget speech. And the new bill addresses some of Quinn's concerns by including a ban on political contributions from the gambling industry, appointing an inspector general to monitor gaming and giving the state gaming board more authority over a Chicago casino.
"The stars are probably lining up better than they've ever lined up," said Sen. Terry Link, a Waukegan Democrat who's a lead sponsor of the legislation. "We're doing a lot of the things that the governorwanted."
But the new proposals still could be held up because of the state's focus on fixing its nearly $100 billion pension problem — Quinn has said that must come first — and the governor's skepticism of so-called "iGaming," which the bill's supporters say might be an option to help fixthe state's financial problems.
"There hasn't been much review on that at all," Quinn told reporters last week. "Any time you have something brand new, it shouldn't just be thrown into a bill at the last minute."However, other prominent Democrats point out that it isn't a new idea, and say Illinois already has been a national leader.
When Illinois became the first state to sell lottery tickets online last year, Senate President John Cullerton introduced legislation that would create a Division of Internet Gaming within the state lottery. Under his proposal, that new division would have made Illinois the first state to jump into the world of online gambling.
But that proposal didn't get much traction, and three states — Delaware, Nevada and New Jersey — since have legalized Internet gambling, though none has it up and running. The process in those states also was fraught with questions of regulation, something Quinn's office says needs to be watched closely before Illinois can approve it.
But Link, who has sponsored gambling legislation for about half a dozen years, says it only makes sense because people are doing it online illegally, and legalizing it would help bring profits to the state. The new proposal would also give oversight to Illinois Lottery officials, who didn't return messages seeking comment.
The proposal calls for splitting profits, between treatment programs for problem gamblers and the pension problem. Supporters estimate the profits that would go toward the state's public pension system could exceed $50 million.
"This is the only revenue-generating bill that's been introduced," Link said.
The casinos — including in Rockford, Danville, Chicago's south suburbs and Lake County — are estimated to generate between $400 million and $1 billion, and the bulk of the money would be allocated to the state's Education Assistance Fund, after the local communities receive a share of the profits. Some of the profits from slots would be used to help the state pay its backlog of billions in unpaid bills.